::Download the NCO Pistol Manual Here::
The proto-type "Combat NCO® Grade 1911 A1®" pistols were made in 1987-88 at Pachmayr Gunworks in Los Angeles, CA under the fine direction shop foreman Lester Pittman. A modified 1911 A1 they were called NCO's and protected their otherwise Classified nature. The design and tactics for the Combat NCO originated from then General Manager of Pachmayr, Karl C. Lippard, former USMC Drill Instructor, Jungle Instructor and Hand to Hand Combat instructor who had combat experience using the 1911 A1 in an offensive mode. These 1911 A1 series 70 pistols were modified to military specifications for specific combat use in small quantities.
There were three types of pistols produced for the military. They were marked "NCO Grade Combat" in which a detailed criteria was given; an Officer Grade Combat in 9mm for military officers only; and General Grade Officer" .45 for General Grade officers only with their respective officer service number on the pistols.
The NCO Grade pistols were requested by the Marine Corps for special unit use such as Force Recon, Delta Force and other special weapons units of the government for use against terrorists. A manual was written to tactical engagement. Also designed for the criteria was a special knife made of A2 steel out of one solid bar. There were 27 knives made. It too was design specific to the military task of close quarter combat as taught by Marine Corps Hand to Hand Combat Instructors and Sgt. Lippard.
All these military pistols and knives were warranted for life against everything from Pachmayr, including abuse. None that were made were ever been returned or seen again. These pistols were made exclusively for the military and not sold to the general public until resurrected and updated in 2007. The Combat NCO knives and subsequent variations were sold and well known to the public. The knives were tested and used on combat operations by Karl Lippard's old unit of 1st Force Recon and returned in 1999 upon retirement of the Unit Commanding Officer.
The word "Combat" in the "Combat NCO" name is a statement of origin and identified it from common 1911 A1's. The acronym "NCO" in the name was used because he was the man who used it. The man and the pistol are both called Combat NCO's. Born in Combat and tested there by Marines, Delta and CIA since 1987 the Combat NCO remains the only "Offensive use" 400 yard accurate military pistol designed for that duty in the world today
Pistols in military service as a norm are defensive in nature. Specifically the 1911 A1 in discussion must be defined as defensive as it has none of the attributes to be used in an offensive mode. The sights are small giving poor results in most light conditions for accurate shooting at any distance beyond 10 feet for most users in a defensive mode. Its loose function made of 8620, and 4340 steel material allowed for functionality but limited its long term use, accuracy and survivability beyond the official life span of 16,000 rounds. Its redeeming feature however was the caliber of choice being the 45 ACP. In this it excelled in its assigned duty since 1911.
Before we can come to the designation of "Combat NCO, NCO or 1911 A2" model changes, we need to have a background on the differences from the 1911 A1. To even USE the term 1911 A2, or propose it, one would have to assume the original pistol in production designed by John Browning has been significantly modified in patent or design that improves the accuracy, economic life, function, effective range, interchangeability and military use of the A1. This has been done to such a degree that the 1911 A1 is not the same pistol except in conceptual thought.
::Download the Combat NCO 1911 A2® Pistol Manual ::
2 Patents have been awarded on the Barrels; n. US 7,383,656., and US 7,707,761 B2 with a 3rd pending; 2 patents on Barrel Link: n. US 7,673,553, 7,861,640 B2; and 15 or more patents pending under the blanket patent "Handgun System" US 8132352B2. These patents collectively constitute a designation of "1911 A2". Other forms and configurations carry additional patents of no. 61225781 Unitary Barrel and 29935.0009 Interchangeable Scope Mounting systems. Some subsystems remain KLD classified even today. Furthermore, there are continued advancements in design for patent called the "A3 and A4" models taking the original 1911 out in upgrades to the end of this platform design set to be year 2100.
These changes in the way barrels are made and replaced, it's barrel bushing, nosepiece/bushing and it's use; the slide stop, safety, hammer, sear, frame, slide, front sight, rear sight fixed, rear sight adjustable and, to include the material used, constitutes a "1911 A2" and acknowledges its origins. These patents not only effect the 1911 A1 design but advancements in the way all guns function today and in the future. (Rifle, pistol, shotgun, machinegun to cannon) The Combat NCO®1911 A2 is 100% interchangeable by design when made of S7 tool steel; one of the strongest and purest steel materials in the world today. NCO A2 parts and components can retrofit ALL existing 1911 Government designed pistols including most clones offered made to original Government or Colt specifications. This includes the Slide. Therefore any 1911 pistol can be upgraded to a 1911 A2 with the installation of two critical parts and a frame modification: A patented Barrel Bushing and a Military Link.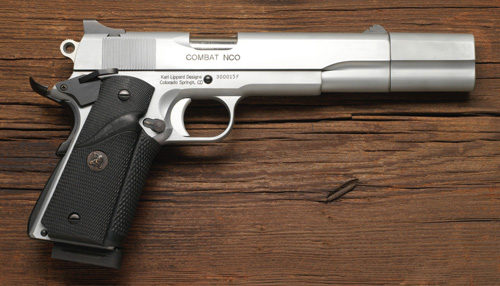 Don't be fooled; the term "Drop In Parts" as used today is not the same as "interchangeable", and is misleading. The only totally interchangeable part pistol known with this accuracy is the Combat NCO 1911 A2™, or those licensed under these patents and or, that use NCO A2 patented parts. Parts made of finest materials, and made totally in the USA.
Learn more about upgrading your exisiting pistol to a 1911 A2
First to attain accuracy in a 1911 design we have to depart from the design thinking that made it function, i.e. a loose fitting pistol. The thought now must turn to accuracy which requires a tight fitting firearm. This is a contradiction. For when one considers close tolerance the actions of the firearm in all its parts MUST change. The Frame and Slide must be close tolerance; the barrel and bushing as well; barrel rotation and yaw; the connection to the Frame at the Link all must be dealt with and those complications they create such as the last round hold open feature, resolved. In doing so presents one of the many problems in the original design that confronted John Browning in an era of horse or steam powered machinery; dealing with available steel found in a rail yard and not necessarily bought to specification; and his inability to even measure tolerances that are common place today.
In the Combat NCO®1911 A2® there are modifications to the Frame and Slide that allow it to function with tight tolerance at extreme temperatures; a change in steel that allows for interchangeability of parts from one pistol to another. A new barrel link designed to keep the barrel in absolute alignment to battery thus improving accuracy but preserving the life of the pistol Slide locking recesses. With a new barrel bushing and collared barrel it allows for wear, a dramatic improvement in accuracy of the new pistol is realized. Couple these new designs with a new match grade barrel bore and maximum accuracy is achieved heretofore unattainable except in the first few hundred rounds of a new pistol's life. And while there are a number of other areas in which all weapons benefit from components found in the Combat NCO®, one of the most important and significant to all guns made today is the Sear. The Sear in patent goes into some detail and with the visual in patent drawing worth a thousand words. Here we find a conventional sear engagement with a new way of firing a weapon, while at the same time rendering it much safer to use. The fact that the patent pending Sear can be retrofitted to all guns ever made (those that use a form of sear) is the greatest contribution to arms design seen in more than a century of manufacture. It allows for a fine trigger while retaining safe function. And something else; the trigger pull weight can be installed with the sear, NOT set by manipulation of the sear ledge or surfaces giving greater safety to a shooter using any firearm made today.
Now that we possess accuracy and safety in the Combat NCO®1911 A2® we can think about for the first time extending its maximum range. And while this data is found in great detail in patent we can say here that the sights specific to the Combat NCO®allows it to give good results up to 400 yards. Some discussion there as to thickness of the front sight blade comes into play as it is an Offensive Weapon; how targets are measured in distance by that; how targets are engaged to maximum range if necessary, and in qualified hands, even extend the range from 400 to 600 yards without sight adjustment.
When all the criteria are satisfied of an accurate Offensive Weapon on a 1911 design platform, and all patented components are present, collectively it is called a Combat NCO®model 1911 A2®. It's not who makes the gun that is important; but what's inside it.
Combat NCO - 600 Yrd. World Record Video Footage Now Available!
Never before seen footage of Karl Lippard Shooting the 600 yrd Record @ NRA Whittington Center on 9/22/12
Watch the video on our YouTube Channel now