Karl Lippard "Classic" Over-Under Shotguns
The new Karl Lippard Classic Over-Under Shotgun is a revolution in gun making technology. It is an Over-Under Sidelock shotgun with totally interchangeable parts and a solid one-piece double barrel - A first in gun making history.
All metal parts composing the gun, except springs, are made of S7 vacuum arc remelt steel - certainly one of the best metals found in the world today - and built to tolerances of .050 microns or less.
This subdued English back action, bifurcated lump sidelock is the safest shotgun made. The engraving pattern is classic English and the furniture is selected for its fine figure.
The Classic over-under guns currently in production are bespoke by individuals and dealers. Those guns in production for dealers may, by request, be assigned to a customer thereby shortening the delivery time. Total part interchangeability allows completed guns to be changed to your specification as required with delivery typically in a few weeks time.
The Karl Lippard Classic is absolutely the finest, most unique, and sophisticated entry-level sidelock shotgun you will find - a gun that by its very nature is already an important part of gun making history.
The Classic comes standard with a MonoSolid ™ barrel but may be upgraded with our SolidSolid ™ barrel as an option.
Learn more about MonoSolid barrels here


Karl Lippard Classic Series with MonoSolid Barrel: $38,500.
Karl Lippard Classic Series with SolidSolid Barrel: $48,000.
Karl Lippard Over-Under "Premier" Shotguns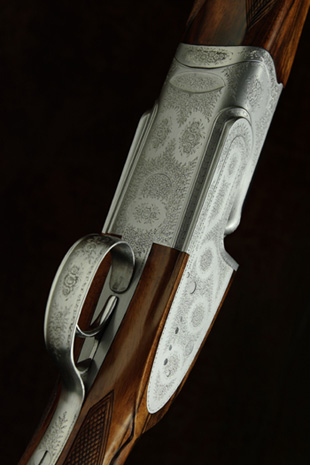 All metal parts composing the gun, except springs, are made of S7 vacuum arc re-melt steel to tolerances of .050 microns or less.
With a greater amount of engraving, state-of-the-art Premier action and a finer grade of wood, the Premier also embodies numerous other custom options and features, which if added to a basic Classic model piece by piece, would cost much more than the Premier model posted price.
Furthermore, the few select owners of Classic and Premier guns enjoy no obsolescence. If a part becomes worn it is replaced automatically when in for service, inspection or cleaning. Any new modification or improvement is automatically retrofitted to the gun including sidelocks, wood or any part we find in need of improvement. Additionally, owners of Premier pieces benefit from other numerous unpublished design features of a perpetual nature.
A combination of the correct material, and cutting edge design by Karl Lippard, the Premier Series is the culmination of all these elements that pushes the limits of state-of -the-art CNC machine capabilities.
The creation of the Premier shotgun was revolutionary in the gun making industry. For the first time in history a sidelock shotgun was conceived, reduced to CAD, produced, engraved, fired, and delivered as a finished product - with no prototype ever made.
Premier O/U from: $65,000.00

The Premier comes standard with SolidSolid ™ barrels as standard..
Learn More about our revolutionary SolidSolid ™ barrels here.
Karl Lippard Double Rifles
In production now are our side-by-side Double Rifles earmarked for the new SolidSolid Rifle ™ and SolidSolid AI Rifle ™ barrels from Joseph Brazier, Ltd. Traditionally created for hunting large and dangerous game - often at close range in the bush, the side-by-side double rifle utilizes large caliber rounds with heavy loads in a configuration that recognizes that reliability is of paramount concern under these conditions.
Both variations of our SolidSolid Rifle ™ barrels are created from single blocks of S7 vacuum arc re-melt steel, making them some of the strongest in the world today.
The rifles have totally interchangeable parts and components made to tolerances of .050 microns or less.
Our SolidSolid AI Rifle ™ is an entirely new implementation of technology that allows for easy "adjustable impact", to effectively accommodate different types of rounds - a first in side-by-side rifle design.
Learn more about our unique one-piece, SolidSolid Rifle barrels and "Adjustable Impact" here.
Our SolidSolid Rifles ™ are currently offered in .375 magnum and .470 calibers. In the future we will be offering two new calibers to the market but will retain the .375 magnum and .470 until the market becomes more knowledgeable in the benefits of our new line of ammunition.
Double Rifle in boxlock from $17,750
Double Rifle in Sidelock from $44,500
Karl Lippard Bolt Action SolidRifle™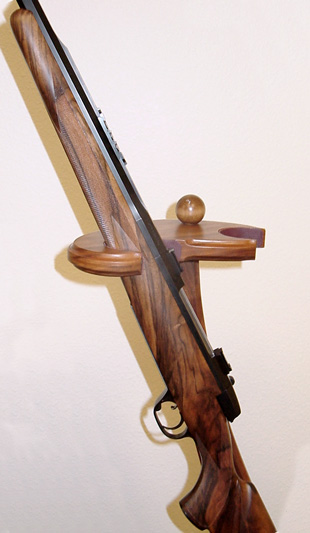 The SolidRifle™ - US patent 8365647 B2 - is a new design concept. The civilian version is called the "Daniel Morgan" in memory of his cunning, courage, and success at the Cow Pens during the America Revolution. It sports a solid one piece barrel and action of octagonal shape incorporating express sight 1/4 rib and integral Front Sight and barrel Sling Swivel. The bolt and firing system (also patent pending) are completely new and not an advancement of any previous design. This change in firing method is the first material change since the crossbow; a rifle firing design that actually has remained unchanged since the advent of the bow and arrow.
No other firearm has ever been made like it and 2 patents have been issued on it to date with additional patent pending.
All our rifles support the new and patented Lippard Scope Rings and Mounts which require no screws to install. A variant fits the Combat NCO™ and removable in seconds with no screws.
The Military SolidRifle™ is slightly different in that the surfaces are round except for integral components. The Model name is "300L." This model is named after American Revolutionary hero General Daniel Morgan and signifies the "300 Lashes" the British gave him while spread eagle over a carriage wheel. It is to remind us all of his courage, and how far a man can go if he has the will to win.
The third type of SolidRifle™ ( US patent 8365647 B2) is a two piece concept Sniper rifle, and semi or fully automatic Infantry small arm weapon system. Available for the present, only to the military. Much is still highly classified. It promises new ammunition and assets never before seen on a battlefield and will be totally made in America. The fully automatic rifle with selective fire is a multi configuration design that can change its caliber and configuration is seconds to suit theater of War or tactical need.
A new world of technology in guns and weapons are here at Karl Lippard Designs. These designs will return American arms to world prominence for the next 100 years and insure battlefield success in time of War.
Long live the "Daniel Morgan" and the "300L."
Learn more about our SolidRifle™ technology here
Daniel Morgan SolidRifle™ from $2,500
300L SolidRifle™ from $1,950
Karl Lippard Bolt Action Best SolidRifle™ from $11,500
Karl Lippard Signature SolidRifle™ from $22,500

Contact Us for a current price quote or
to discuss available options on any of these fine firearms.
---
~ Other Very Special Karl Lippard Models ~
---

~ The Signature Series ~
A Signature model denotes "The Maker's Gun". A personal gun designed and used by the designer himself. These are a very special limited run of shotguns. The maker's signature, Karl Lippard, is on each gun. Only 6 guns remain available of ten to be made. There are many features inside and out on these guns that are not offered on any other shotgun.
Learn More about Signature Series guns here
Signature Series from: $85,000
~ The Exhibition Models ~
These guns are engraved with historical subject matter. They are intended to be useable art and the finest original works we can produce. Subject examples under consideration include Japanese Samurai, Spartan and Arabian themed guns. SolidSolid ™ barrels complete these historic shotguns.
Exhibition Models from $85,000.00
~ Commission Pieces for Heads of State and Royalty ~
HOS Models are commissioned for Royalty and Heads of State only.
Each gun is custom, entirely unique, and is made to specifications.
They are not duplicated for, or delivered to, anyone outside of this group. The guns can be grandly ornate or unpretentiously elegant. They are all however, "extra finish" guns with a focus on hand treatment and not interchangeability.
They are the best guns we can make. Each comes standard with SolidSolid ™ barrels.
Please enquire for pricing where appropriate
Our current Price List is available for download here

Contact Us for a quote or to discuss available options on any of these fine firearms.